Kelly Cares Donates 10,000 Books to New York City Catholic Schools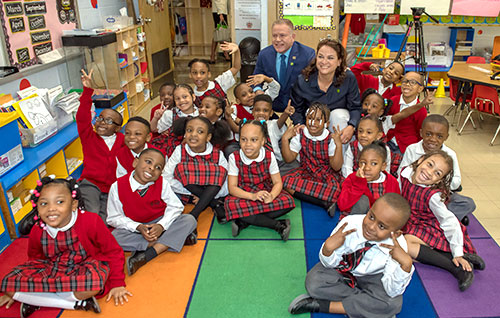 In partnership with Better World Books, the Kelly Cares Foundation was able to donate 10,000 books to students at New York City Catholic Schools. The books will be used to supplement the schools' libraries as well as students' personal libraries.
One of these schools was St. Charles Borromeo School in Harlem, NY, where Brian and Paqui Kelly visited on Monday, May 7. Brian and Paqui read to a Kindergarten class and donated 1,000 books that school. Each student was able to take one book home for their personal library.
As part of its 2018 literacy initiative, Kelly Cares also donated 5,000 books to Thompson Intermediate School in Houston, TX to replace those lost in Hurricane Harvey.
The Kelly Cares Foundation would like to thank the Archdiocese of New York, Better World Books, and St. Charles Borromeo School for their help to distribute books to children throughout New York City.
Posted on May 15, 2018